What is breast implant illness?
In general breast implant illness (BII) is the idea that breast implants are causing illness in patients who have them. Common symptoms include: fatigue, joint pain, muscle aches, weakness, blurred vision, and memory issues, although patients may report other symptoms as well. This condition is very frustrating for both patients and physicians, as there are no specific tests to diagnose BII and the symptoms overlap with many other conditions. Often, patients will go to many doctors who perform tests and imaging, and don't find anything wrong. Yet, there is growing recognition in the medical community that some patients with breast implants do experience symptoms, and those symptoms may improve when the implants are removed. In fact, the FDA recently updated the labeling on breast implants to include a warning about breast implants and these symptoms! Through the hundreds of these procedures that he's performed, Dr. Hirsch has developed his own technique for the en bloc capsulectomy, implant removal and mastopexy, and has published it in the Aesthetic Surgery Journal online. It's available at the link below: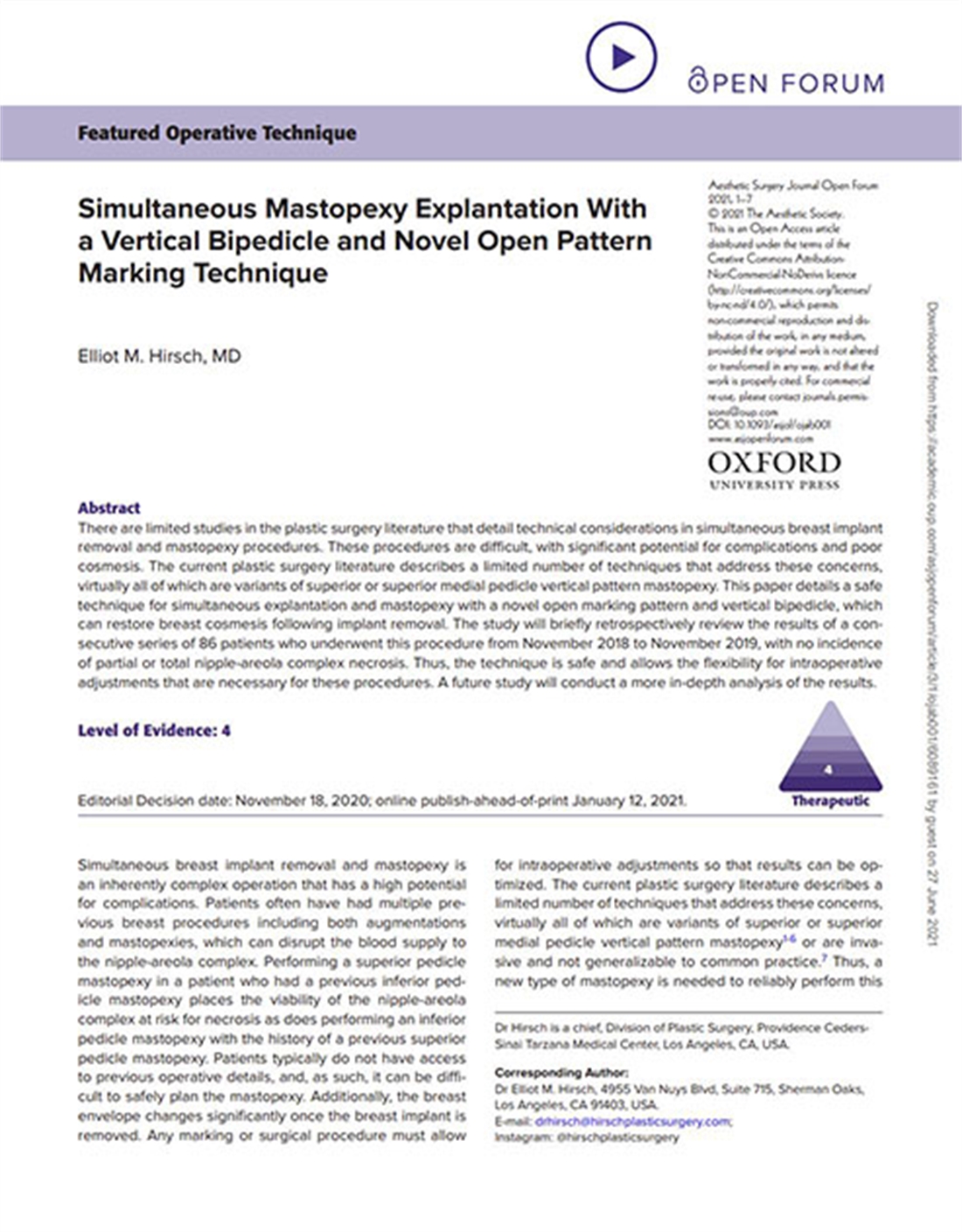 Read Paper
Read at National Library of Medicine
In general, there are 3 potential theories about why this may be occuring. One theory is that some people are susceptible to inflammation, and that the implants are a foreign body and are promoting inflammation. Another theory is that breast implants may be colonized with bacteria biofilm, and this is causing the body to react to it. A third theory is the Autoimmune Syndrome Induced by Adjuvant (ASIA), which predicts that the implants are chronically stimulating the immune system provoking these symptoms.


Dr. Hirsch, expert Los Angeles breast implant removal surgeon, performs over 200 explant surgeries each year, previously interviewed Dr. Yehuda Shoenfeld. Dr. Shoenfeld is the researcher who developed the concept of ASIA syndrome. To listen and learn more about his theory, click the link below:

https://podcasts.apple.com/us/podcast/below-the-surface-with-dr-elliot-hirsch/id1501620758


For more information, visit

1) www.breastimplantillness.com
2) www.facebook.com/groups/breastimplantillnesssupportcalifornia/
2) https://pubmed.ncbi.nlm.nih.gov/26890506/
Frequently asked questions about breast implant illness and Dr. Hirsch
Credentials and Facility Affiliations
Dr. Hirsch is a board certified plastic and reconstructive surgeon. He is affiliated with Providence St. Joseph's Medical Center and Valley Presbyterian Hospital. He operates at several surgery centers, all of which are fully accredited.
Explant Surgery Details
Dr. Hirsch is very experienced with explant procedures and performs over 100 each year. Typically, an en bloc capsulectomy (without breast lift) takes around 2 hours or so. En bloc capsulectomy with breast lift is a 3 to 3.5 hour procedure depending on the breast size and implant size. Antibiotics are given intravenously within 1 hour of incision time per standard of care. These surgeries are performed under general anesthesia. He is happy to return implants to the patients if desired, and will take pictures/video as well.
In most cases, drains are used during the procedures to help prevent fluid build up (seroma), which can increase inflammation and prolong healing. The drains are removed at the first postoperative visit which takes place one week after surgery.
Post-operative details
The post operative discomfort is worst in the first 24-48 hours and gradually improves with time. By the end of the first 2 weeks, most patients are feeling almost normal and can resume full activities by 4-6 weeks postoperatively.