Breast Implant Removal
View Before and After Photos
About the procedure
For many reasons such as breast implant rupture, capsular contracture, other symptoms, or simply not wanting implants anymore, Los Angeles breast implant removal patients may choose to undergo removal of their breast implants. Dr. Hirsch performs a total capsulectomy in all cases, en bloc whenever possible, to remove the breast implants and their capsules. Often, there is a lot of skin remaining after the implants are removed because the implants cause the skin to stretch. To remove the extra skin and reshape the breasts, a breast lift (mastopexy) can be performed at the same time as the procedure. Other procedures such as liposuction and occasionally fat grafting can be performed at the same time as well to improve breast appearance.
In general, there are two different types of breast lifts that can be performed for our breast implant removal patients: the circumareolar (or internal) breast lift and the full breast lift. The circumareolar lift is performed through the areola while the full breast lift is done through an anchor-pattern incision. At the time of your consultation, he will discuss which type of mastopexy is best for you. Through the hundreds of these procedures that he's performed, Dr. Hirsch has developed his own technique for the en bloc capsulectomy, implant removal and mastopexy, and has published it in the Aesthetic Surgery Journal online. It's available at the link below: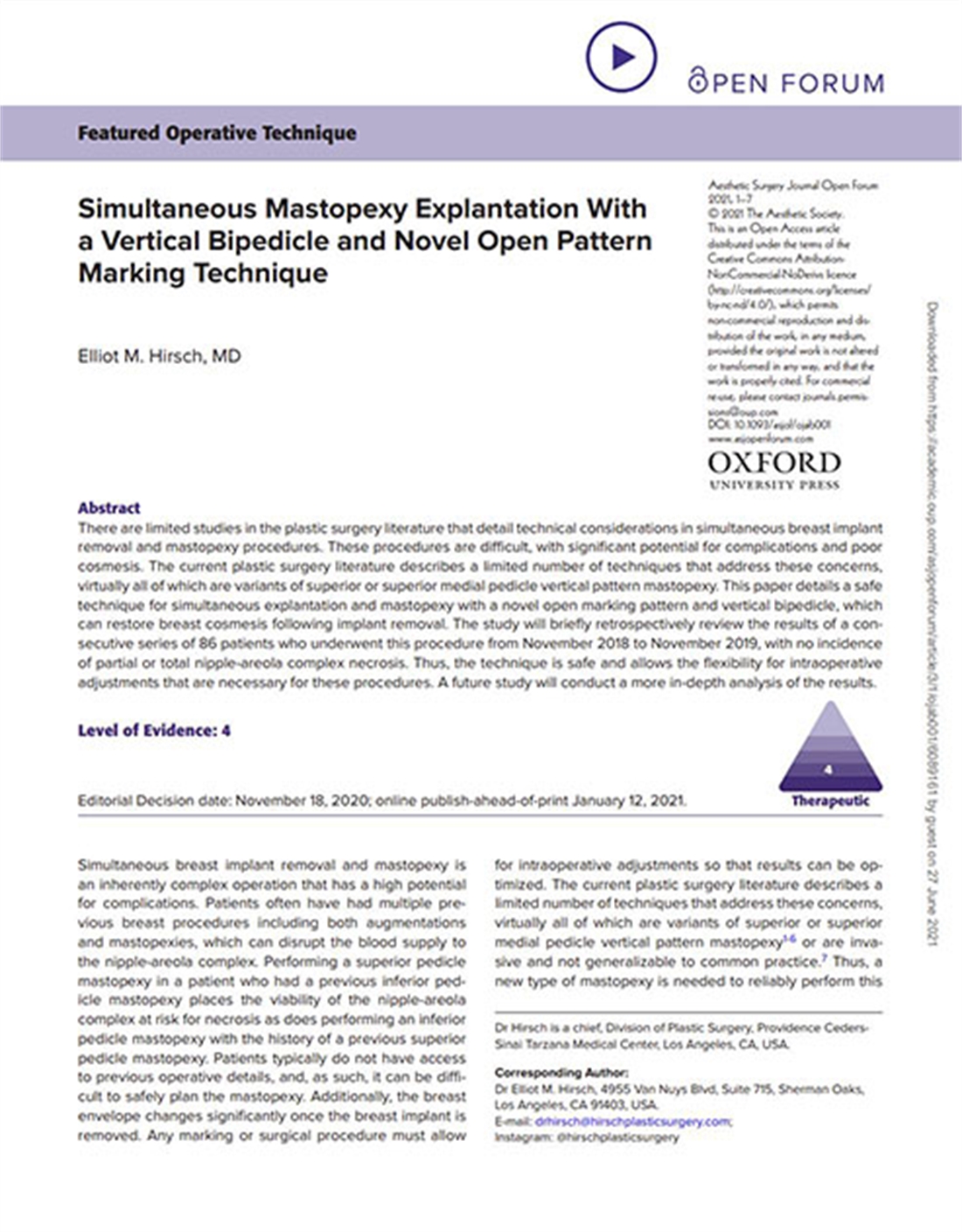 Read Paper
Read at National Library of Medicine
The video below shows Los Angeles en bloc breast implant removal specialist Dr. Elliot Hirsch performing an implant removal, total (en bloc) capsulectomy, and a breast lift.
Breast implant removal, en bloc capsulectomy, and breast lift
Typically, the breast implants and capsules can be removed through the same incision that was used for the breast augmentation, which minimizes new scarring. Most often, this is done through the fold incision. If a lift is performed as well, the implants and capsules can be removed through the lift incisions, which also limits scarring.
Most patients who have their breast implants removed with/without a lift say that they feel a soreness, like after working out in the gym. This usually lasts a few days and is much better after a week or so. After two weeks, most patients are able to resume their regular activities without much difficulty. Dr. Hirsch recommends wearing a soft, supportive sports bra or other similar bra without underwire during this healing period. Drains are usually for one week post-operatively.
If desired, cultures can be taken and tissue may be sent for pathology. Implants can usually be returned to patients, although this is subject to the facility policy.

Frequently asked questions about breast implant removal
What is the breast implant capsule?
Any time that a foreign body such as a breast implant, knee implant, pacemaker, or any other similar device is implanted, the human body responds by forming a capsule around it. The capsule is composed of scar tissue as well as other cells from the body including blood vessels and connective tissue. This is separate from the breast implant shell, which is a silicone capsule that surrounds and contains the silicone gel or saline filling of a breast implant. Dr. Hirsch performs a total capsulectomy, en bloc when possibe, in all cases so that all remnants of the capsule and implant are removed together, which minimizes exposure of the body to the loose silicone.





My implants are big and I am worried that my breasts will be saggy if the implants are removed. What can be done to help my breast appearance?
Large breast implants cause the skin to stretch over time. Although the skin will shrink a little bit after the implants are removed, the breasts will often look empty and deflated after the implants are removed. As a breast implant removal specialist Dr. Hirsch will often recommend a breast lift at the same time that the implants are removed. The lift allows Dr. Hirsch to carefully sculpt the breast tissue, remove excess skin, and reposition the nipple to give the breasts their best possible appearance. The breast lift can also be combined with fat grafting and/or liposuction as well.

There are several different types of breast lifts. For patients with smaller implants or a minimal amount of breast ptosis (saggy breasts), a circumareolar lift (around the areola) can be performed. For patients with bigger implants and more breast ptosis, a lollypop lift is an option, which gives a scar around the areola as well as a scar that extends down the breast. For patients with big implants and/or significant breast ptosis, an anchor-pattern lift may be necessary. Dr. Hirsch has developed a special type of anchor pattern lift that helps maximize blood flow and healing, and retains the maximum amount of breast tissue to help him optimize breast appearance. Be sure to ask about this at your consultation with Dr. Hirsch!

What is "breast implant illness?"
Please click on the following link to learn more about this:
https://www.hirschplasticsurgery.com/Breast-Implant-Illness


Dr. Hirsch discussed this topic on his podcast with Dr. Yehuda Shoenfeld, the researcher who developed the theory of Autoimmune Syndrome Induced by Adjuvant as a theory of breast implant illness. Listen to their discussion below:
Dr. Yehuda Shoenfeld
A Patient Story w/ Lauren
A Patient Story w/ Lorena
What is breast implant associated ALCL? Am I at risk?
Breast implant associated
A
naplastic
L
arge
C
ell
L
ymphoma, or Bia-ALCL, is a rare disease that may arise in patients with breast implants, specifically textured breast implants. Bia-ALCL typically presents as a swelling in the breast, usually only on one side, and often occurs many years after the breast implants were implanted. When patients undergo imaging studies, there is fluid in the breast, and this may be sampled and the fluid sent for analysis. Specific biomarkers such as CD30 may be positive in patients with Bia-ALCL. Treatment for Bia-ALCL is a total (en bloc) capsulectomy and additional chemotherapy may be needed. This is usually performed by a multidisciplinary team including a plastic surgeon, surgical oncologist, and medical oncologist.
Will I need drains after my breast implant removal surgery?
In most cases, drains are used during breast implant removal surgery. When implants are placed, they fill a space. When implants are removed, it creates a space and the body's natural response to creating a space is to fill it with fluid. The purpose of the drains is to remove this fluid, reduce inflammation, and improve healing.

If drains were used, please empty your drains, strip drains, and record output every 8 hours. Bring the record of the drain output with you to your appointment with Dr. Hirsch. To learn how to care for drains, watch the video at the following link: https://www.hirschplasticsurgery.com/Patient-Forms