Breast Augmentation Los Angeles
View Before and After Photos
About the procedure
Call for a consultation
818.825.8131
or schedule online today »
Breast augmentation, or increasing the size of the breasts with breast implants, is one of the most common cosmetic surgery procedures performed in Los Angeles as well as the United States each year. There are many different reasons for undergoing implant surgery: some women have experienced breast deflation following pregnancy, other women may have asymmetry between the breasts, while still other women may simply desire an increase in breast size.


There are many different breast implant options for patients looking for breast augmentation surgery in the Los Angeles area. This video below helps illustrate the differences between gummy bear breast implants and silicone gel breast implants.


Breast augmentation Los Angeles
is most commonly performed with the use of a breast implant. During your breast surgery, Dr. Hirsch a Los Angeles plastic surgeon will make an incision around your areola (periareolar), under your breast (inframammary), or in your armpit (transaxillary). Through this incision, Dr. Hirsch will create a space for the breast implant that will either be above or below the muscle, and then will insert the implant and close the incision.
After several years of breast implants, patients may notice changes in the shape of their breasts. Occasionally, asymmetries between the breasts may develop and the breasts can look different from each other. Deformities such as the "double-bubble" can develop, and capsular contracture may occur. In addition, implants may occasionally deflate, which certainly may affect the shape of the breast. Dr. Hirsch specializes in
breast revision
procedures, which are for patients who have previously had their breast implants placed, and have developed asymmetries or deformities over time. Dr. Elliot Hirsch uses a variety of techniques to correct these asymmetries, including mastopexy, implant exchange, neosubpectoral pockets, and liposuction to make the breasts appear more symmetric.
Learn more about breast implant revision
After breast augmentation or revision surgery, most patients say that they feel a soreness like they just finished a chest workout in the gym. This feeling may last for a few days, but after a week or so the discomfort is minimal. There may be some bruising or swelling as well, although this resolves over the course of 2-3 weeks. During the first few weeks after surgery, Dr. Hirsch recommends wearing a soft, supportive bra like a sports bra, although any bra without underwire is appropriate.
For existing patients,
please download post operative instructions.
Patient Reviews
Dr. Hirsch is an artist with a scalpel. He did my breast augmentation 6 months ago, and my results are so natural and amazing. I had almost no pain, and the entire process was super smooth and easy! I'm coming back to him for my tummy tuck later this year.
-Aimee L

I had been to see 3 different beverly hills surgeons before I was referred to Dr. Hirsch by a friend. I knew right away that he was different. He was easy to talk to, has a great sense of humor, and really took his time to understand what I was looking for in my breast augmentation. The day of surgery, I was a little nervous but he calmed me down and surgery went great. My results are amazing of course, I'm so glad that I found him! Thanks Dr. H!
- Jennifer C.

Frequently asked questions:
There are many different types of breast implants. How do I know which is the right breast implant for me?
After you decide the size of the breast implant you would like, the next step would be to decide between silicone implants or saline implants. Both implants have been around for a long time with benefits and drawbacks to each.
Learn more about saline vs. silicone breast implants
How do I know what size implants I should have for my surgery?
The choice of implant size is critical in achieving a good result after surgery. To start with, you should have some idea of how big you want your breast to be- do you want them to be very noticeable in clothes? Or do you prefer the size change to be more subtle? Bringing in pictures of breast that are close to your desired size is helpful as well.
Dr. Hirsch may ask you to buy a bra that is the size that you would like to be after your procedure, and bring it with you to your appointment. He may use a sizing system in his Sherman Oaks office to help figure out your desired breast implant size.
Finally, it is important to understand that there is a limit as to how big your breasts can become based on your size and the amount of skin and breast tissue that you have. Overly large breast implants can stretch the skin and lead to skin thinning and the implant wearing through the skin. Also, they can drop down and "bottom out" faster than smaller implants. Ultimately, the choice of implant size is a personal decision that is made during your consultation with Dr. Hirsch in order to give you the best result, in the safest way possible!
I have had children and when I finished breastfeeding, my breasts shrank and are now saggy and deflated looking. What can be done to make them look better?
During pregnancy, the breasts increase in size as the body prepares to provide milk for the baby. As a consequence, the skin of the breast stretches and enlarges as well. However, once the woman is finished breastfeeding, the breast gland shrinks but the extra skin remains. Since the skin is no longer filled by the extra breast tissue, it appears deflated and saggy. A breast augmentation surgery will correct this appearance because the breast implant takes the place of the breast tissue and fills up the skin envelope so that the breast again appears large and full. Occasionally, if the skin is very saggy, it may be necessary to combine breast augmentation surgery with a breast lift, or mastopexy. This combined procedure is called an augmentation mastopexy.
What will happen to my nipple sensation after surgery?
It is difficult to predict what will happen to nipple sensation after breast surgery. Occasionally, the nipple sensation will increase while other times it will decrease or remain the same. This happens because the nerves that give sensation to the nipple are stretched by the breast implant, and it is difficult to predict how they will respond to the surgery
My breasts are saggy and I would like them to be bigger. What can be done to improve their appearance?
As women age, the breasts naturally sag due to the effects of gravity. In addition, the volume of breast tissue that is glandular decreases, which gives the breast a more deflated appearance. Women who would like their breasts to be both lifted and larger are candidates for a mastopexy augmentation procedure. This procedure can be combined in one stage, and combines a breast lift with a breast augmentation. Dr. Hirsch will be happy to discuss this procedure with you at your consultation.
Should my breast implants be placed over or under the muscle?
Breast implants can be placed either under the pectoralis muscle (subpectoral), over the pectoralis muscle and under the breast tissue (subglandular), or partially under the pectoralis muscle and under the breast tissue (dual plane). Placing the implant in the subglandular space gives the breast a more augmented appearance, while placing the implant in the submuscular space gives a more natural look. Placing the implant with the dual plane approach also gives a natural appearance, as well as giving a small amount of lift to the nipple position.
What is the right type of incision for my surgery?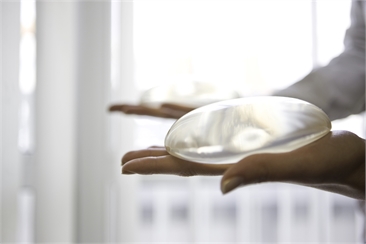 Breast implants can be inserted through an incision made around the nipple (periareolar), under the breast (inframammary fold), or through the armpit (transaxillary). Depending on the size of the implant and the characteristics of your breasts, you may be a candidate for different incision choices. For example, if you have a smaller nipple and desire a larger silicone implant that requires a larger incision, an inframammary incision would be a better option for you than a periareolar incision. Similarly, if you have very small breasts with a underdeveloped inframammary fold under your breasts, a periareolar or transaxillary incision is a better option for you. During your consultation with Dr. Hirsch, he will help you decide which is the best option for your incision.
Will I be able to breast feed after surgery?
There is limited information in the literature about the ability of women to breastfeed following breast surgery. Most women who want to breast feed after implant surgery are able to breastfeed, occasionally with formula supplementation. An incision below the breast (inframammary) is a better option than an incision around the nipple (periareolar) for women who are interested in maximizing their chances to breastfeed following surgery.
When can I start exercising again after surgery?
It is very important that you start walking the same night as your surgery! You should perform only light activity for the first 2 weeks after post-surgery and try to minimize heavy lifting or raising your arms above your head. As long as your incisions are healing well, Dr. Hirsch will usually clear you to begin light exercise (light treadmill or light bike riding) between 2-4 weeks after surgery and resume full exercise 6 weeks after surgery. It is important to wait for Dr. Hirsch to clear you to resume exercises at each post-operative stage.
When can I go back to work after surgery?
Once the discomfort has resolved after your breast implants are placed, you should be able to go back to work. If you have a job that involves strenuous exercise or heavy lifting, you might need to take additional time off of work. Most patients are off work anywhere from 3-7 days after breast implant surgery.
Will I have surgical drains after surgery?
Typically, Dr. Hirsch does not use drains during breast augmentation surgery.
How long do my breast implants last?
Breast implants do not have a fixed shelf life once they are used. If you are not having a problem, there is no need to replace them. This is true for both silicone and saline breast implants.
Will my areola stretch after surgery?
Your areola may increase in size a bit, but will not be dramatically larger after your implant procedure.