Microneedling
About the Procedure
Microneedling, also known as 'Collagen Induction Therapy,' is a one of the most sought after skin care treatments to aid in helping acne scarring, stretch marks, and more. For our Los Angeles patients, microneedling uses an automated electric stamping device (or medical needling device) to create hundreds of controlled micro wounds in the skin, which stimulates a healing response by the body. This response causes healing cells to produce additional collagen, elastin and hyaluronic acid, which makes the skin appear youthful and refreshed!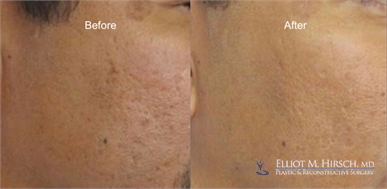 The microneedling procedure begins by applying a topical numbing cream to minimize discomfort caused by the procedure. Once the numbing cream is working, a topical hyaluronic acid ointment is applied to the skin to aid in the gliding of the needling device. The actual microneedling procedure is customized to the skin type and problem areas of the skin. For example, Los Angeles microneedling patients who are looking to correct acne scars and stretch marks may need more aggressive treatments with repeat procedures to achieve maximum improvement.

Most Los Angeles microneedling patients only have redness for 1-3 days after microneedling. Patients can see almost immediate rejuvenation from a micro-needling treatment and continued rejuvenation for up to 2 years post procedure. Most patients will benefit from at least 5 treatments scheduled 4 weeks apart, as well as a post procedure protocol that includes either using a hyaluronic acid to re-hydrate and soothe skin or an epidermal growth factor to speed recovery and cell renewal.


This video shows our esthetician, Jo Halliday, performing a microneedling treatment
Frequently asked Questions
What skin types can be treated by microneedling?
Virtually all skin types can be treated by Micro-needling! A consultation is performed prior to treatment and a treatment plan will be implemented according to skin type and needs. Skin with acne scars responds especially well to microneedling.
How much downtime can I expect after microneedling?
Downtime after microneedling in Los Angeles depends on skin type and how the treatment is performed and can range from 1 day to 5 days. It is important to not wear makeup for at least 24-48 hours and avoid exposure to direct sun light for a few days as well.
What procedures can be performed at the same time as microneedling?
Several procedures can be performed with micro needling including PRP (platelet rich plasma), micro-dermabrasion, chemical peels, derma planing, Oxygen therapy and LED therapy. In addition, our injectors frequently perform botox and fillers at the same time too!